Blvd Bagels - Our Recipe Box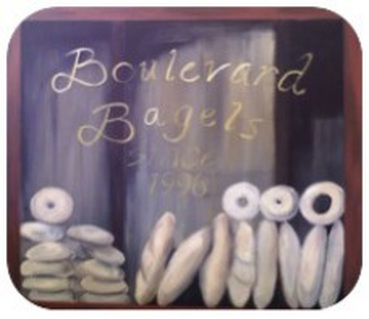 Whether entertaining guests or simply enjoying a quiet weekend with your family, we hope that the following recipes will surprise you with fun and easy ways to serve our bagels.

Enjoy!

Pizza Bagels
Blvd bagels (plain, egg, or garlic)
pizza sauce (jar sauce will work if you don't have homemade handy!)
shredded mozzarella cheese

Optional toppings:
Pepperoni
Sliced meatballs
Sliced sausage

Slice bagels in half and place on a baking sheet. Spread pizza sauce evenly over the tops, then sprinkle with mozzarella cheese. Top with additional toppings if you like! Bake at 350 degrees for 8 minutes or until cheese begins to melt.

*Hint: Blvd Bagel pizza's can be prepared in advance and frozen in individual baggies for a quick and delicious snack anytime!

No need to thaw, place frozen bagel pizza directly into toaster oven on 350 for 8 minutes or until cheese begins to melt.

Bagel Nachos
Blvd bagels
paprika
garlic
parmesan cheese
cinnamon
(or any other seasoning you like!)

Preheat oven to 350 degrees. Slice bagels thin (1/4 inches thick or thinner if you can). Stack the slices and cut into quarters. Place in single layer on a baking sheet. Rub with seasonings and place in oven and bake until they begin to brown. Chips will "dry" and become very crisp!

*Hint: These chips are great with any topping, such as cold cream cheeses, any melted cheeses, potato chip dips, salsa, and more!

Bagel Brushetta
4 medium sized tomatoes, (chopped)
1 1/2 tablespoons minced fresh garlic
1/8 cup fresh basil
1/4 cup chopped coriander
1 1/2 tsp lemon juice
freshly ground salt and pepper (to taste)

Thoroughly combine ingredients. Refrigerate mixture for several hours. When ready to serve, bring to room temperature.

Brush cut sides of your favorite Blvd bagels with olive oil and toast lightly in toaster oven. Spoon tomato mixture onto bagel halves and serve open-face.

Onion Bagel Croutons
3 tablespoons butter
1 1/2 tablespoons olive oil
2 small garlic cloves, minced
3 onion bagels, each cut into 2 semicircles

Preheat oven to 325°F. Combine first 3 ingredients in heavy small saucepan over medium heat. Stir until butter melts.

Remove from heat. Slice Blvd bagels into 1/4-inch-thick rounds. Place on cookie sheet. Brush with mixture. Bake until crisp and brown, about 30 minutes. Cool. (Can be prepared 1 week ahead. Store in airtight container at room temperature.)
Makes about 4 cups.

Garlic Rosemary Bagel Crisps
4 Blvd bagels (about 1 pound), cut into very thin slices with a serrated knife
1 1/2 teaspoons dried rosemary
4 large garlic cloves, minced with 1/4 teaspoon salt
1/2 cup olive oil
1 tablespoon coarse salt

Arrange the bagel slices in one layer on 2 large baking sheets. In a blender purée the rosemary and the garlic mixture with the oil until the mixture is smooth. Brush the slices with the mixture, sprinkle them with the salt, and bake them in a preheated 350°F. oven for 15 to 18 minutes, or until they are golden.
Makes about 1 pound.

Ice Cream Treat Bagel Dessert
One plain Blvd bagel (or your favorite flavor)
Two to three scoops of vanilla ice cream

Optional toppings:
sliced banana
chocolate chips
sprinkles
hot fudge sauce
marshmallow crème (fluff)
chocolate crunchies
whipped cream
maraschino cherries
walnuts… pecans… almonds…

Slice bagel in half and add optional toppings of your choice. Grill both sides until it's all hot and melted.

Remove from pan and add your favorite ice cream, whipped cream and a cherry.

Note: Have the paper towels ready and eat quickly!

---