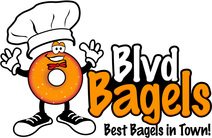 Fresh HOT Bagels & More...
Plain, Poppy, Sesame, Everything, Cinnamon-Raisin, Egg, Egg Everything, Onion, Salt, Pumpernickel, Rye, Oat bran, Multigrain, Garlic, Sunflower Seed
Whole Wheat (Sugar Free): Plain, Sesame & Everything
Minis, Bialys, Flats and Twists
Rolls, Whole Wheat Rolls, Heroes, Rye, White & Whole Wheat Breads

Homemade Cream Cheese & Tasty Lox
Plain Cream Cheese
Vegetable Cream Cheese
Scallion Cream Cheese
Strawberry Cream Cheese
Walnut Raisin Cream Cheese
Assorted "Lite" Cream Cheese
Fresh Lox
Tuna Salad
Chicken Salad
White Fish Salad
Boar's Head Cold Cuts
Hot Soups
Parfaits & Yogurt
Salads To Go

Try a delicious Hot Panini...made fresh just the way you want it!

We Cater too!


---